Newsletter
PEA was Featured on the TV Show Advancements with Ted Danson
on Jul 02, 2023 12:07 PM
|
Phoenix East Aviation continues to train successful pilots and has successfully trained thousands of them for over 50 years. Over the years, Phoenix East Aviation has had a "first class seat" to witness the improvement and changes of technology used within the aviation industry. The use of technology within the aviation industry has positively impacted the training of pilots at Phoenix East Aviation allowing them to help close the gap of the pilot shortage that the aviation industry is facing. What is a better way to bring attention to both significant matters rather than being featured in Advancements with Ted Danson? Advancements is an award winning educational program that shines a light on several important issues and topics currently impacting society.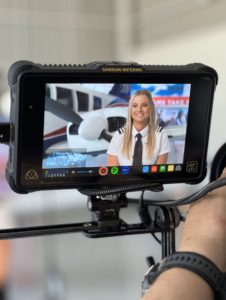 Ted Danson is best known for his roles in shows such as Cheers and The Good Place. However, he also focuses on raising awareness to certain issues and topics as the host for Advancements with Ted Danson. This is a series that examines a number of important themes and subjects that are currently influencing our society. It is an independently produced television series produced by DMG Productions. It features cutting-edge improvements, state-of-the-art technologies, and innovative solutions that are responsible for shaping and transforming our world. The show takes viewers on a journey across the globe to explore recent breakthroughs and developments taking place around the world.
In January, the production team in "Advancements" reached out to Phoenix East Aviation (PEA) with an invitation to appear on the show. After researching the flight school and finding that it would be a good fit for the next episode they were working on producing, they requested to move forward and offered PEA 1 of 4 spots to be featured on Advancements. PEA was the only flight school selected to appear on the series to highlight the improvements in simulation software within the aviation industry. This episode also included discussion on breakthroughs in financial technology, innovations and environmentally friendly practices and how sustainable drilling equipment is improving safety.
PEA's focus in the episode was to discuss the advancement of technology within the aviation industry, highlighting the pilot shortage. The following individuals were selected to partake as interviewees for the segment based on their unique perspective and participation within the aviation industry: the interviewees were Kristopher Johnson (CEO/President), Michael Halligan (COO/Airmen Certification Representative), Monica Frain (United Airlines Pilot/Senior Manager-Aviate Sourcing and Engagement), and Sara Mohlin (Private Pilot/Marketing Manager). Two of Phoenix East Aviation's Certified Flight Instructors also had the opportunity to be a part of this. Faizan Zafar, who flew one of Phoenix East Aviation's brand new Cessna 172 and Brenton Scott-Martin, who flew one of Phoenix East Aviation's newly modernized Piper Senecas.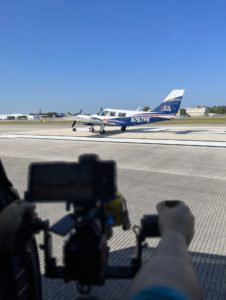 June 24th, 2023 is the day the episode aired and for everyone who participated in any capacity, a day they will never forget. The series airs on Bloomberg live, and appears on Amazon Prime and Advancements' website the following day. Phoenix East Aviation was the first feature in the episode, and uncovered how recent technological advancements are taking a primary role in producing and training pilots. The segment also showcased how Phoenix East Aviation's automated flight training technology, such as their RedBird full motion simulators and desktop simulators, is assisting in improving basic training in aeronautics, mechanical and electrical systems to help reduce pilot shortages and help further engagement of future aviators. The viewers of Phoenix East Aviation's segment were able to see how PEA's innovative simulator software uses technological realism to prepare pilots and positively impact the aviation industry.
Are you interested in catching the latest Advancements with Ted Danson episode? You can locate it on Amazon prime, or find the episode on their website at https://advancementstv.com/segments/