Newsletter
PEA Congratulates all Student Completions in Quarter 2
on Jun 02, 2023 12:06 PM
|
Phoenix East Aviation wants to congratulate all its pilots who completed their licenses or ratings in Quarter 2 of 2023. A lot of hard work and dedication is behind these achievements! PEA loves to share its pilots' stories. Check out this month's feature!
Imagine being a kid growing up in Bahrain and being surrounded by a family of passionate, aviation professionals. Your dad works in airline management and your grandfather is a former air traffic controller, pilot and instructor. Over time you develop a strong interest in aviation, crediting both role models, and with the exposure you gained to the industry throughout your childhood.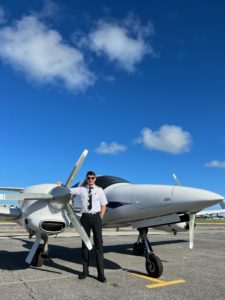 Meet Faizan Zafar – he was that kid. He grew up with the dream of becoming an airline pilot. At the age of 16, he knew it was his time to "fly" after his grandfather took him "on a joyride flight" in a Piper Cherokee, which ultimately persuaded him to become a pilot. While recalling his childhood, "I love traveling, in fact growing up my family and I traveled a lot, and the idea of working as an airline pilot and being able to travel the world, while getting paid for it had always amazed me, so I knew I had to do this," said Zafar.
In 2018 his dreams took flight, and he joined PEA, the school that his aviator role models trusted to ensure was going to get him to his career goals. He completed all of his flight training from Private Pilot License through his CFII, and to say that he accomplished major achievements while at PEA, would be an understatement. "I currently hold the following FAA Licenses and Ratings: Commercial Pilot Airplane Multi and Single Engine Land with an Instrument Rating, Gold Seal CFI, CFII, Advanced Ground Instructor, Instrument Ground Instructor, FAA Aircraft Dispatcher and UAS: Remote Pilot," said Zafar. Over the course of his time at PEA, Zafar too held multiple positions and is a Flight instructor, Commercial and Private Pilot Ground School Instructor, Stage Check Pilot and EOC (End of Course) Check Airman.
Most recently, he obtained the title of a Gold Seal Flight Instructor. This is awarded to instructors who have demonstrated a higher standard of instruction or performance, an 80% pass rate with their student's End of Course/FAA Check Ride submission, and with a minimum of 10 submissions. "I have trained and recommended 17 pilot applicants and more than 80% of them have passed their check rides on the first attempt which ultimately lead me to receive the Gold Seal Flight Instructor Certification", said Zafar. He joins the Gold Seal ranks as one of the top instructors at PEA to receive this honorable certificate.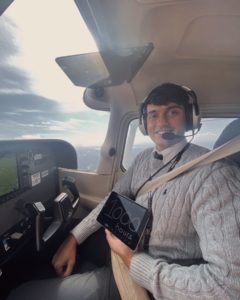 These achievements are ones he is extremely proud of and were accomplished with hard work and dedication. Throughout the majority of his training, Zafar often thought of the advice his father once shared with him. "No task or goal is impossible and if you put in the hard work and effort, you can accomplish any challenge or goal you've set for yourself… ultimately, hard work and perseverance yields great results," said Zafar. This advice stuck with him throughout the progression of his own training, and he wants to share similar advice to potential students looking to begin their flight training. Although it may seem overwhelming at times, do not allow the sense of being overwhelmed cloud the passion you have for flying, "Understand discipline is key when it comes to successful training progression, and budget your time… budgeting time for study while attending to professional, student, and family obligations is essential… it only gets easier with time and practice and most importantly enjoy the process," said Zafar.
There is no doubt there were times that were more challenging than others, especially when he first started his training. At first, he was most apprehensive about ATC communication. He would listen to ATC communications of some major US airports before he even started flight training. It all seemed very fast and overwhelming to him, but with time and practice, it became second nature. The most memorable time of his training occurred when he was working toward obtaining his CPL. He was on his long 7 hour solo cross country flight where he flew from Daytona Beach, to both Augusta and Savannah, Georgia and back, "it was that flight that gave me so much confidence in my piloting skills," said Zafar. Looking back, he is glad that he did not allow the fear and nervousness he had about ATC communication get in the way of his dreams of becoming a pilot because now he has this memory to cherish forever.
Phoenix East Aviation will always be an integral part of Zafar's pilot journey, and during his time at PEA, he successfully accumulated 1450 hours of flight time. In order to meet the required ATP Minimums, he has 50 hours to go! Most recently, he began attending Embry-Riddle Aeronautical University and is working toward completing his degree in Aeronautics. Upon completion and with the success of recently being accepted into United Airlines Aviate Program, his ultimate goal is to become an airline pilot for United Airlines.
Needless to say, with a resumé like his, make sure you say hi to him when you see him as your pilot in the future! We wish him all the best!