Newsletter
Learn More About Women in Aviation International
on Oct 01, 2023 11:10 AM
|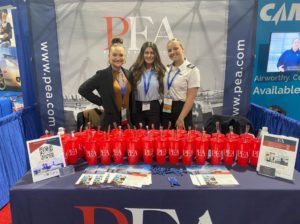 Welcome to the latest edition of PEA's newsletter, where we take flight into the captivating world of aviation organizations. In this issue, we aim to shed light on the pivotal role that these organizations play in shaping the aviation industry and fostering its growth. Among them, Women in Aviation International (WAI) stands as a beacon of progress and inclusivity. We invite you to embark on a journey of discovery and learning, as we delve into the significance of aviation organizations like WAI and provide you with a deeper understanding of their missions and impact. Whether you're a seasoned aviator or an aviation enthusiast, join us in exploring the fascinating contributions and initiatives that these organizations bring to the skies, ensuring that the sky is not the limit but only the beginning.
Who is Women in Aviation International?
Women in Aviation International (WAI) is a global non-profit organization dedicated to fostering networking, education, mentoring, and scholarship opportunities for individuals, regardless of gender, pursuing careers in the aviation and aerospace sectors. The organization's primary goal is to enhance public awareness of accomplished women in the aviation industry.
WAI serves a diverse membership base, including astronauts, pilots, flight attendants, maintenance technicians, air traffic controllers, educators, students, air show performers, airport managers, business owners, and more. The organization prioritizes assisting its members in securing employment and advancing their careers. Its membership comprises aviation professionals, enthusiasts, students, and corporate affiliates. Local WAI chapters actively challenge gender-related stereotypes within aviation careers. The organization is headquartered in Germantown, Ohio.
Women in Aviation International produces a magazine, "Aviation for Women," with six issues annually. Furthermore, WAI provides scholarships for its members to support their educational and professional aspirations.
This organization's roots trace back to the visionary efforts of Peggy Baty Chabrian, the Dean of Academic Support at Embry-Riddle Aeronautical University, who identified the challenge of recruiting and retaining female aviation students. To address this issue, she proposed the creation of a seminar. In 1990, luminaries like Moya Lear, Jeana Yeager, Shannon Lucid, and Bobbi Trout were invited to speak at the inaugural conference, which received an enthusiastic response. This event laid the foundation for the establishment of WAI in 1994.
Peggy Baty Chabrian was appointed as WAI's first full-time President and CEO in 1996. By 1998, the organization had grown to 3,000 members, and as of September 2023, its membership extended to over 16,000 individuals worldwide.
WAI made history by sponsoring the inaugural Arab Women in Aviation show at the Dubai International Convention Center in May 2016.
Women in Aviation International organizes an annual conference that has seen remarkable growth, attracting around 5,000 participants in 2023, compared to the 150 attendees at its inception in 1990. Notably, men constitute approximately 20% of WAI's membership. The conference offers a platform for educational workshops, networking opportunities across various aviation sectors, a scholarship awards banquet, and the annual WAI Pioneer Hall of Fame Induction Ceremony. In 2024, almost $1,000,000 in scholarships will be awarded, including grants to male applicants.
Why Join WAI?
Joining WAI is open to women and men in any and all stages of their careers within the aviation industry. There are several benefits to joining your local WAI chapter. Women in Aviation International allows their members the opportunity to connect, engage, and inspire those interested in aviation.
Benefits of being a WAI member is the ability to "connect". One way members are able to do so is by attending an annual conference. During this conference, members are able to network with others from different WAI chapters, explore recruitment and job opportunities, speak with aviation industry representatives, and attend different educational sessions and workshops that are offered. Aside from this annual conference, there are several smaller events throughout the year that WAI members attend and have the same ability to network with individuals in the aviation industry. Secondly, joining WAI allows a benefit in job searching, which can be a very daunting experience. However, as a WAI member, you have unique and exclusive access to jobs that are listed by other WAI member companies via a virtual job board, also known as the "WAI Jobs Connect board", specifically designed for pilots, maintenance technicians, dispatchers, and many other positions within the aviation industry (Women in Aviation, 2023). The last way members stay connected is through the use and help of mentors. It is important to make connections in any field you wish to pursue a career in, however by making connections with professionals in the aviation industry, you have the ability to soar and grow exponentially. Members can log into their portal, look for and choose a mentor, and stay connected regardless of where they are in their aviation career.
Second, a WAI member has the opportunity to "engage", and much like the importance of having a mentor as previously discussed, choosing to be a part of a network of more than 160 women and men, provides a larger "web". The aviation industry at its core, connects people from different places and backgrounds. By engaging in the local chapters, attending the conferences, and participating in the yearly events, anyone in the aviation industry has the opportunity to work and network with so many others, making their personal engagement stronger in this world.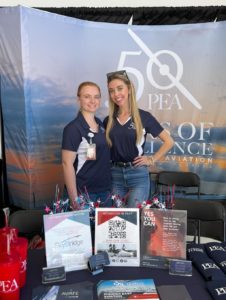 Finally, Women in Aviation International focuses on "inspire". In 2015, WAI introduced Girls in Aviation Day, observed on the last Saturday of September each year. This initiative is designed to ignite the interest of girls aged 8 to 17 in aviation careers. It has gained momentum over the years, with more than 150 events and over 30,000 participants annually. In 2016, a dedicated Girl Scout patch was introduced to commemorate the occasion.
The Women in Aviation International Pioneer Hall of Fame, established in 1992, honors women who have made significant contributions as record-setters, pioneers, or innovators in the aviation and aerospace industries. WAI actively seeks nominations from across the aviation sector, with inductees chosen by a committee. Special recognition is accorded to individuals who have paved the way for other women to succeed in aviation or who have created opportunities for women in the field.
Phoenix East Aviation: An Enthusiastic WAI Partner and Local Chapter Participant
Phoenix East Aviation takes great pride in its annual participation in WAI's conferences and its active involvement in numerous Girls in Aviation Day events across its various campuses, both in Florida and beyond. PEA boasts one of the highest ratios of female pilots among its student and instructor populations and continually strives to enhance this representation, particularly in collaboration with international female student pilots hailing from regions where gender opportunities remain restricted. PEA's foremost mission is to cultivate a welcoming and professional environment for all aspiring aviators.
We hope this newsletter is both informative, inspirational, and motivational to get you involved in WAI and other aviation organizations like it.
Check our Women in Aviation International at www.wai.org
Sources:
Women in Aviation International (n.d.). Benefits – Women in Aviation International. Retrieved October 20, 2023, from https://www.wai.org/benefits