Newsletter
Exciting Admissions News from PEA with a New Veteran Friendly Collaboration
on Aug 02, 2023 12:08 PM
|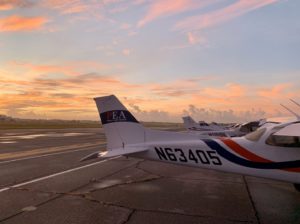 Phoenix East Aviation continues to train thousands of pilots and has successfully been doing so for over 50 years. They are home to several aspiring pilots that come from all over the world and who have different backgrounds and specialities. Creating joint efforts with different companies is something that allows the atmosphere at PEA to remain inclusive and feel welcoming. This is why PEA always looks to create as many new opportunities for students as possible, to help them become successful in the aviation field with as much funding as possible. Most recently, PEA announced their collaboration with SkyBridge.
SkyBridge is an intermediary between active duty service members transitioning to their next job and the aviation industry. SkyBridge provides opportunities, designs and manages programs for Service Members during their last 180 days of active duty. SkyBridge assists in finding the right internship, apprenticeship, or training path to achieve the Veteran's goal in the aviation industry. Oftentimes Veterans carry skills that will directly relate to what they want to do after the Military, however if they are looking to develop new skills, that is okay too. Skybridge allows the opportunity for Veterans to work with industry professionals who are happy to train them in a new skill and/or polish their skills and recognize their value as a Service Member goes beyond their technical field.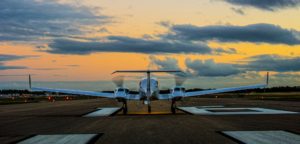 There are many benefits to working with SkyBridge as a Veteran. Skybridge is Department of Labor and Department of Defense (DoD) approved and authorized via Title 10 USC. Ultimately the DoD's goal is to gain post-service employment with a host company or another company. It is important to remember that while working with SkyBridge, Service Members maintain all pay and benefits, and are not allowed to accept salary.
SkyBridge is a DoD authorized third-party SkillBridge provider which gives partners instant access to the DoD program without navigating the DoD bureaucracy. Their unique model allows the primary focus to be on one industry… the aviation industry, and is the only third-party provider with career counseling specialists that precise SkillBridge placement based on a particular Service Member's qualifications, wants, and needs.
Below you will find a description of the process and timeline of SkillBridge.
Begin looking for a SkillBridge opportunity 6-24 months before leaving service → There will be an introduction/counseling call, thereafter the applying and interviewing process will begin. It is recommended to start about 12-24 months prior, but SkyBridge is able to work with any timeline → Placement then begins. SkillBridge ends and terminal leave begins. This step occurs 0-180 days prior to final Military separation based on a company's need.
Skybridge serves as an intermediary between active duty service members looking to transition to their next career within the aviation industry. This partnership is important for a prospective Phoenix East Aviation student because the agreement that these two entities have allows Veterans to join PEA as a student and begin their flight training, while continuing to earn their benefits for up to 180 days.
Are you interested in learning about Phoenix East Aviation's new collaboration with SkyBridge? Our Admissions team is here to help. Please do not hesitate to reach out to PEA via email at info2@pea.com to get more information and/or to get in touch with the flight school.